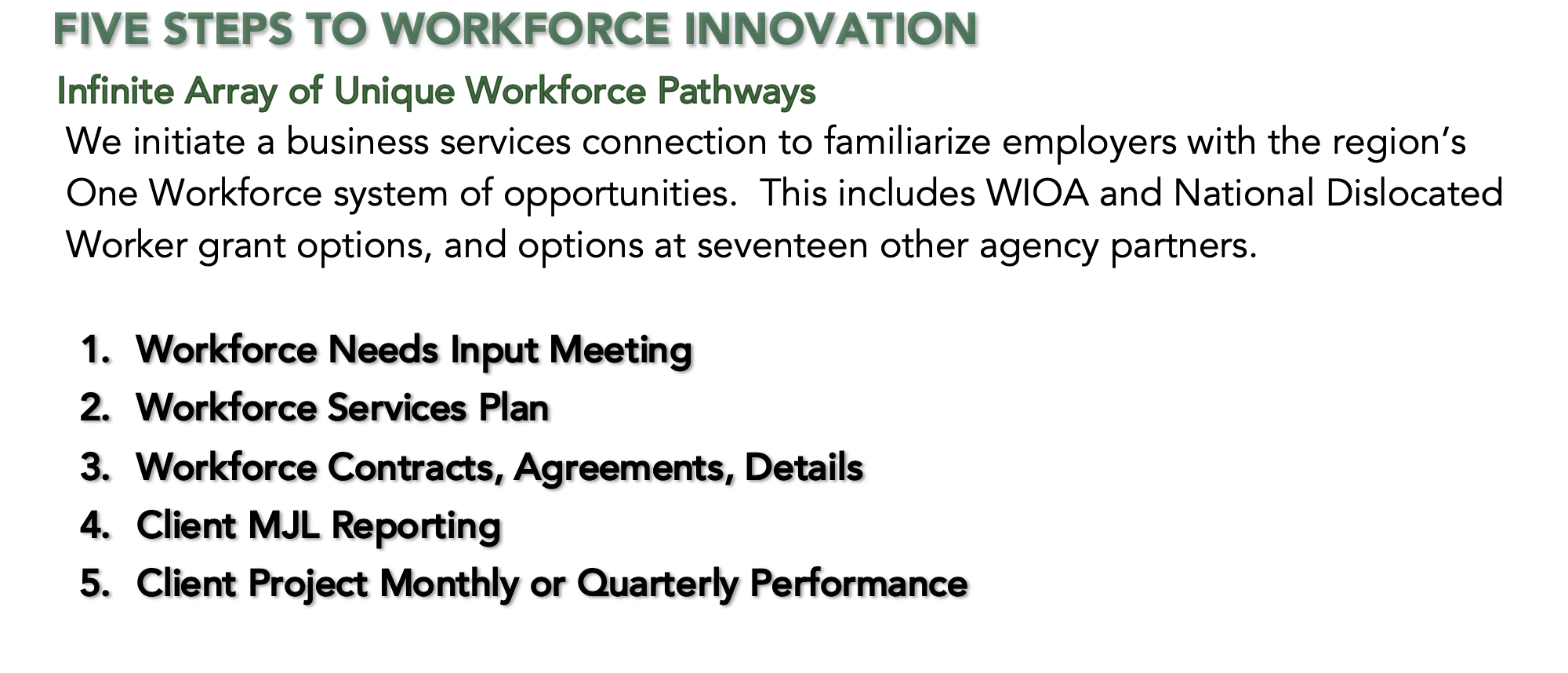 CUSTOMIZE YOUR WORKFORCE                               
AN AUTHENTIC BLEND – INNOVATION + HERITAGE
 Infinite Unique Workforce Pathways.
We initiate a business services connection to familiarize employers with the region's One Workforce system of opportunities.  This includes WIOA and National Dislocated Worker grant options, and options at seventeen other agency partners. 
1. Workforce Needs Input Meet

ing
2. Workforce Services Plan
3. Workforce Contracts, Agreements, Details
4. Client MJL Reporting
5. Client Project Monthly or Quarterly Performance
1. Workforce Needs Input Meeting
The Input Meeting is the first of five steps that will ensure that total regional cooperation to help the firm meets its training and workforce demand.

Delve beyond public data to uncover business realities in the region

Explore what the occupational needs and/or problem issues for the client and its industries in the categories of 1. recruitment 2. retention and 3. succession.

Discover the talent landscape in our region and by radius of your resort.

Assess the skills, credentials, and gaps

Study migration patterns

Request specialized occupation information

Choose select services to help area development such as market absorption

Answer questions about firm opportunities for former offenders, youth, remote work, and opportunities for those in career transition are especially discussed.
2. Workforce Services Plan
Board Staff creates Strategy (Ideas/Actions) for a plan of One Workforce Services for the Client based on the Available Services, Need & Eligibility.

Board Staff Meets with Service Provider to Discuss Strategy I/A, Revise, and formulate a Business Services Plan.

Service provider and Board staff work with client to create a 1-2-3 client plan
3-5.   Fine Print & Future Metrics (Steps 3 to 5)
Workforce Contracts, Agreements, Details (1)

Client MJL Reporting – State Database that Helps Client continually (2)

Client Monthly or Quarterly Metrics to build performance (3)
EMPLOYER ACCESS POINT OPTIONS
PDF VERSION BELOW